Nurses and Nursing Faculty use the links below to explore the various options provided by the Tennessee Deans & Directors for the Schools of Nursing in Tennessee!
Continuing Education
Dear Colleagues,
Below is a list of the upcoming Nursing Continuing Education opportunities that are being provided by the University of Tennessee Health Science Center – College of Nursing. 
 2020 Elinor F. Reed Distinguished Visiting Professorship
TITLE: Zip Code Versus Genetic Code: Which Has More Influence on Patient Outcomes?
SPEAKER: Ansley G. Stanfill, PhD, RN – Associate Dean of Research and Associate Professor – UTHSC College of Nursing
Friday, March 27, 2019
2:00 pm – 4:30 pm (Registration begins at 1:30 pm) 
Memphis Botanic Garden, 750 Cherry Road, Memphis, TN 38117
Please feel free to distribute among your staff and colleagues. PLEASE TAKE ADVANTAGE OF ONLINE REGISTRATION THROUGH EVENTBRITE: HTTPS://2020REEDDVP.EVENTBRITE.COM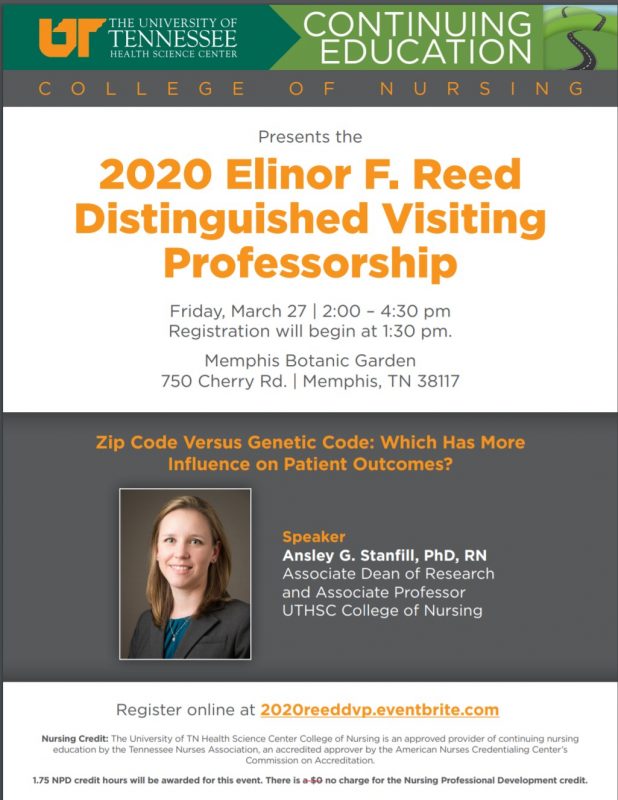 Nursing Resources
All links open in a new window.  Close the window to return to this site!
Professional Nursing Organizations and other Organizations of Interest to Nurses
Professional Nursing Education & Licensing Organizations
Nursing Faculty Positions
The following Schools of Nursing in Tennessee have some great opportunities for faculty looking for a new challenge! Click on the school logo below to see more information. Updated 9/23/2019

Johnson City


Knoxville & Nashville


Memphis


Memphis


Knoxville

Gallatin/Cookeville Higher Education Campus/Livingston Campus